Call for Founders
Together with you we want to rethink how people live, move and work in the future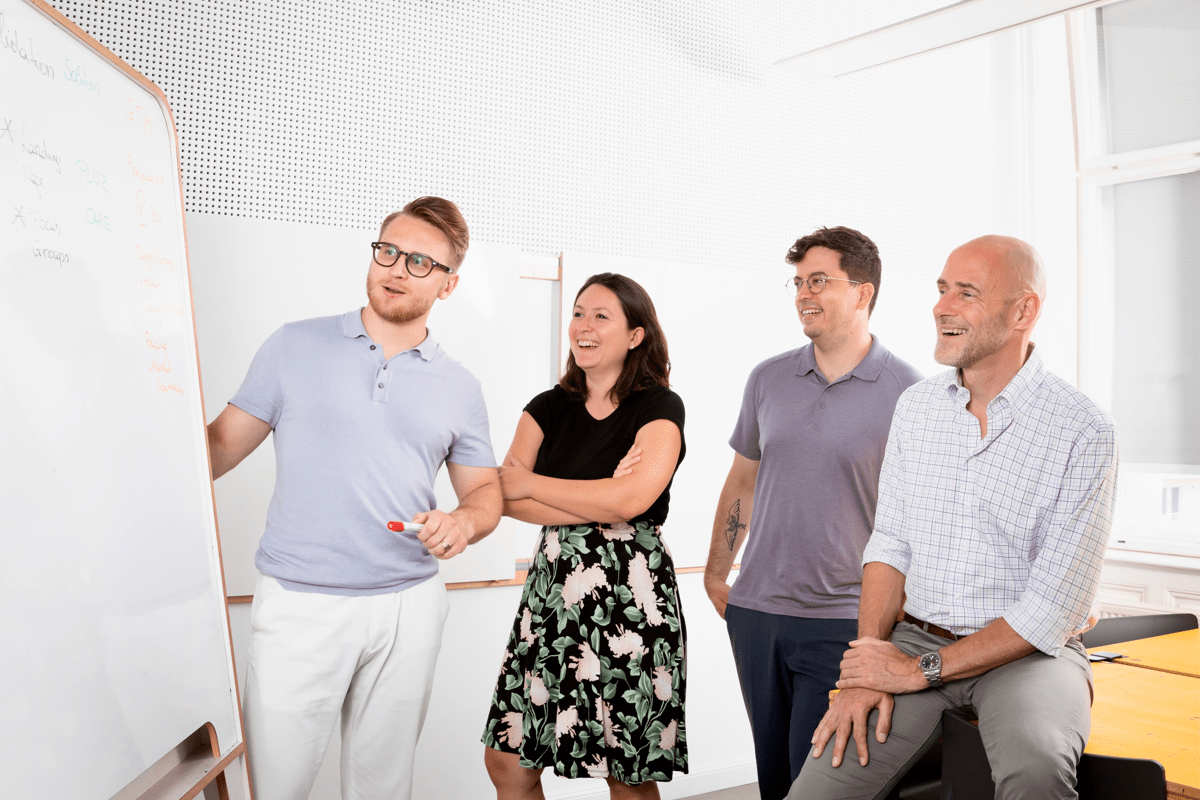 Overcome the biggest challenges a founder faces in the beginning
We provide you with a business idea, a cofounder, capital, and the ongoing support you need to build the next big thing!
Build with us
Following you will find some ideas, in the B2B software space, that we are currently looking into. They are usually still very rough and need some founders to take a closer look into it to validate it further.
We're looking for outstanding entrepreneurs to join us and turn these ideas into ventures.
If you are interested to find out more about them, reach out to us via career@trive.studio
Our Ideas
#Cross-functionalFeedback

Software engineering has seen a shift towards cross-functional agile teams. However, engineers are typically still managed through tools that mainly support traditional, hierarchical reporting lines. The result of this is that there is a lack of data and expertise to efficiently and fairly evaluate and develop every engineer.

We believe there is a better, less time consuming way of doing 360 degree feedbacks to fit the needs of cross-functional agile teams which will make the process more collaborative, inclusive and multi-disciplinary.

#CreatorsFuture

Marketing and advertising have seen a dramatic shift towards social media. This trend is only accelerating but there is a shift from paid influencers towards authentic collaborations. The old paradigm of customer-client is evolving towards a world where everyone is a creator and can collaborate with brands and other creators. However, current networks are notoriously bad at enabling collaboration, turning it into inefficient, manual labour. This is why we believe that a network fostering such collaborations between creators and also brands could disrupt current social media marketing and create more value for all parties.

#DistractionLess

In our daily work-life we are always trying to work faster and harder. Our coping mechanism at work, but also in private is media-multitasking. We believe that, if we do several things at once, we are more productive. In fact, the opposite is true. However, living with this for several years now, we ended up with a lack of undivided attention which increases stress levels, reduces our productivity and threatens our mental health. Furthermore in an always-on work life it's hard to recharge and all mental health apps out there are just curing the symptoms, not the cause. We believe there is a way to tackle this issue. With #DistractionLess we want to reduce workplace distractions, help people to understand themselves, especially their energy levels better, and, most importantly, raise awareness on boundaries of your co-workers.
Let's chat
Let's jump on a call to talk about what you are looking for, how you could help our ventures.
Get matched
Get matched with a venture and co-founder that has complementary skills but shares your values and vision.
Get Pre-Seed Funding
Receive the capital you need to launch your business directly from trive studio.
Start building
Don't worry about Marketing, HR, Legal, etc.
The trive studio core team makes sure you can focus on what's most important for your business right now.
We're here to support you
Our in-house recruiting experts give you guidance on how to attract top engineering talent to your team.

We provide feedback on your product roadmap and MVP to ensure you maximize value for your customers and don't waste valuable engineering time.

Our in-house engineering leaders help accelerate the critical technology decisions made during the early days of your company

We'll help you find your strategy.

We provide guidance on how to raise capital and introduce you to investors who can take your company to the next level.

Our executive team has built several successful startups before and is here to help you navigate common challenges founders experience.

You can find support and exchange ideas with trive's community of founders.

Our in-house HR experts can help your team develop growth-oriented policies that will foster equitable and engaged workplaces.

Our partnerships with leading legal and financial service providers reduce administrative headaches.
Meet our founders
trive studio gave us direct feedback on our plans and approach, and provided connections within the industry that set us up for success. They were an invaluable resource when starting our company.

Julia Trummer

Co-Founder of Emma Wanderer