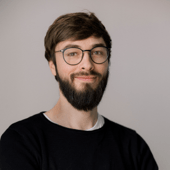 Andre Schweighofer
Venture Architect - Tech
Andre joined trive studio with more than 10 years in software engineering, product and engineering management. 
His career started as a Full-Stack Software Engineer at XING in Barcelona where he was building e-recruiting solutions. XING at this time hat more than 15M users and >200M revenue.
Furthermore Andre was the Lead Software Engineer at the early stage startup Favcorner in Barcelona, where he was building a B2C marketplace while growing the tech team.
Before joining us, he helped Runtastic to scale from <100 to >250 people. His role was in the technical product management for the Premium team and in Engineering Management for Web and the CRM-Tech team. 

Andre likes to share his knowledge as Conference speaker (Lean Agile Exchange) and tech blogger with a focus on software engineering, agile product management and software engineering career guidance.
With a strong background in software engineering and digital products Andre applies his skills as Venture Architect at trive. His focus lies on digital-first products, built to scale with a high degree of technological innovation ranging from blockchain to AI and IoT.